TECHNIQUE: CLASSICAL BALLET AND FLOOR-BARRE

Ballet technique is the foundational principles of body movement and form used in ballet.
Floor-barre is a technique in ballet training that "takes the basic ballet barre training from the standing position to the floor, "taking the effort of standing out of the equation."
 We will work on ballet terminology, meaning, and precise body form and movement. Emphasis is placed on developing flexibility and strengthening the legs, feet, and body core as a strong core is essential for turns and many other ballet movements. The techniques found in classical ballet are a framework for many other styles of dance, including modern dance, jazz, contemporary, and lyrical.
CONTEMPORARY BALLET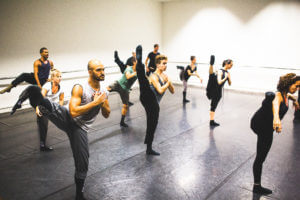 A contemporary class with classical technique. Focusing on mind and body through fluid movement, dancers will build on their technique, musicality and strength. They will be confronted with the shift of weight within exploring the freedom of movement.
CONTEMPORARY JAZZ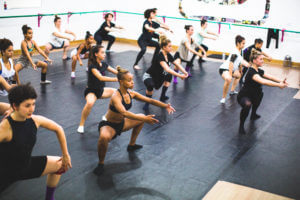 Expression of emotions in motion. Fusion of Modern, Jazz and Ballet, based on release technique, joy of flow and beauty of form. On Lucy's class, dancers will be motivated to develop musicality, control and surprise their own body's strength. They will be challenged to express artistry and move beyond the mechanics.
LIFTS AND TRICKS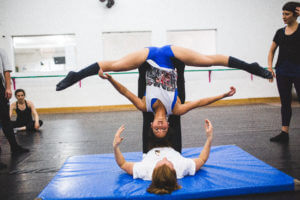 This class is designed to present you the basic rules and techniques of dance lifts and acrobatic tricks. Working in pairs and small groups, students will learn how to trust and connect with their partner, as well they will develop strength, balance and a great awareness of their own body. Safety and playfulness guaranteed.
IMPROVISATION
Exploring dancers' organic movement and developing their creative mind. Within different set up situations, students will be encouraged to move in new, unconventional ways, trying to discover themselves and space around them. Dancers will be challenged to express their passion, determination and most importantly, play with their own material in a certain context.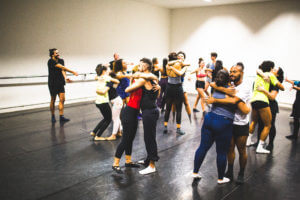 CONTACT IMPROVISATION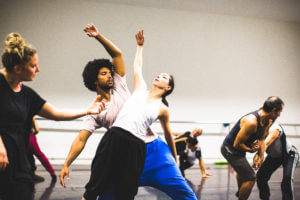 A playful practice where students explore how a specific touch initiates movement of another person. Through technical exercises, games and partner work, they will create a movement dialog by initiating actions or reactions, making a contact, giving or receiving weight and building each other's trust. Contact improvisation will help dancers to develop creativity, gain confidence in spontaneous movement and simultaneously connect with others through a different experience.
YOGA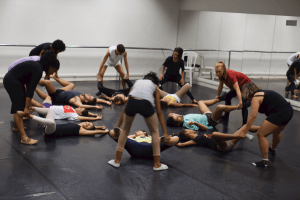 In this vinyasa flow practice we will strive for the alignment and the architecture of our body, which will help us gain full body strength and create flexibility, where needed for each individual. Focusing on foundational basics in yoga this class is opened for all levels with lots of opportunities to challenge yourself and develop deeper mind-body connection.
NUTRITION FOR DANCERS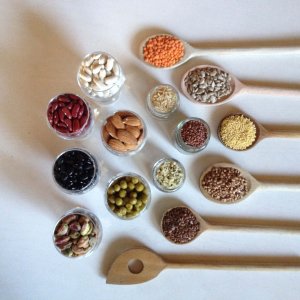 Discussion about the benefits of good nutrition for dancers. Why is it so important to eat regularly and healthy? What kind of fuel is better for dancers and how much is recommended? How to find a balanced diet that prevents fatigue, improves recovery after training, prepares you for the next one and promotes a long healthy career in dance?
JOIN OUR ONLINE CLASSES
MDP team decided to create Zoom classes once a month. This way we want to be reachable and accessible to everyone who wishes to dance with us.
Find your inspirations with us!
Challenge your heart and have the courage to follow your dreams.
Plesno kulturno društvo
MERAKI DANCE PROJECT
Kettejeva 30, 1230 Domžale
TRR: SI56 6100 0002 0713 242
BIC banke: HDELSI22